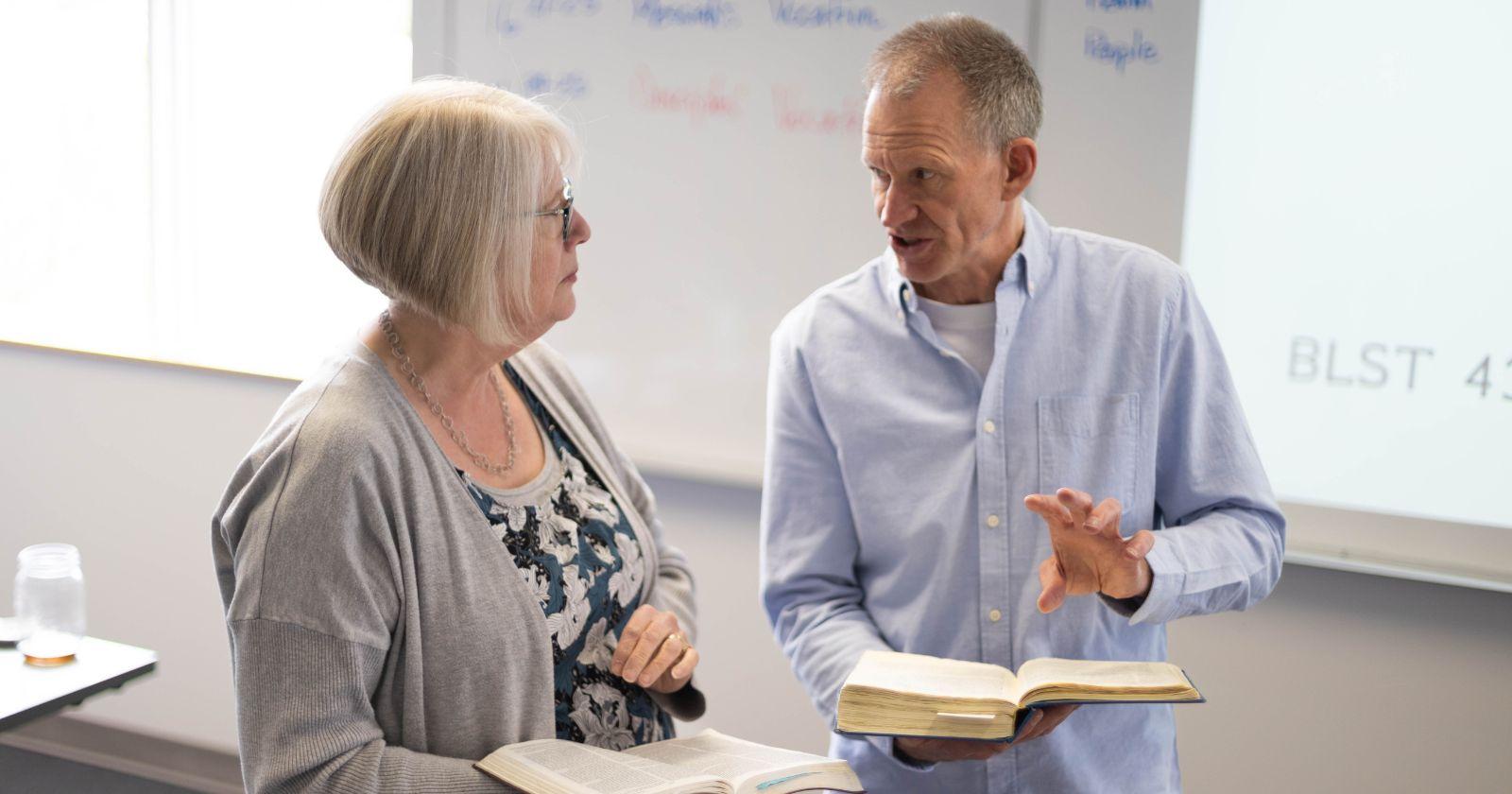 Strategies for Success as a Mature Student at Briercrest College
---
Starting college in my late thirties felt like a daring move. I knew I had made the right decision, but the reality of the challenges ahead caused me to question if I was ready for this new adventure.
When I arrived at my first class, a wave of intimidation washed over me. Reimer Hall's auditorium-style classroom felt huge to me, and I wasn't confident that I was in the right place.
As I took my seat, surrounded by students who were nearly twenty years younger than me—most being the same age as my children—I felt lost and unsure of how to navigate the situation of being the "older person" in a room full of millennials. I sat near the door in case fear overwhelmed me and I needed to bolt.
Later in the week, I discovered I wasn't the only mature student. In reality, many people opt to continue their education later in life. There are many advantages to waiting to begin secondary education—for both the student and the classroom.
Colleges and universities acknowledge that mature students add value to the learning environment. These students bring a wealth of knowledge, experience, and wisdom to their classes. Mature students are also more focused on their studies as they already know what purpose their education will serve after graduation.  
However, it can be an almost frightening experience for the older student—at least initially.
The first few weeks can be challenging, and you will need to be patient with yourself. You might need more time to grasp certain concepts than your younger classmates, but eventually, you will settle into a new routine and find college an enjoyable experience.
If you are coming to Briercrest College as a mature student, here are some tips to help you ease into the transition and make the most of your college experience. 
Tips For Mature Students Entering College
1. Understand the benefits.
Returning to college later in life has many benefits. As a mature student, you will likely be more committed, motivated, and focused than when you were younger. Years of work experience have equipped you with strong time management and study skills, which can lead to academic success.
Your unique life experiences also bring a valuable perspective to classroom discussions and debates, enriching the overall learning experience for everyone. This dynamic creates a positive environment where both older and younger students can learn from each other and grow together. 
In addition, returning to school later in life can also help individuals: 
Expand their professional network and increase career opportunities.
Gain new skills and knowledge that can lead to personal growth and development.
Improve their confidence and self-esteem by achieving a long-term goal.
Enhance critical thinking, problem-solving, and decision-making skills.
Enjoy the social connections and intellectual stimulation that come with attending college.
2. Know what to expect. 
As a mature student, it's important to be aware that higher expectations will be placed on you. College is a transformative period marked by personal growth and exciting challenges that shape us into who we aspire to be. However, these expectations need not be intimidating. By understanding and implementing the following tips, you can confidently navigate your academic journey and thrive as a mature student at Briercrest College.
Know yourself and your limits:
Be honest about how much time you can commit to schoolwork and still juggle life outside school. Don't try to do more than you can handle. Unlike your younger counterparts, you still have an entire life outside of college to maintain.
When I started, I took two classes in the first semester and three in the second. By year two, I had the rhythm of assignments and exams and could handle a full semester (four classes).
At Briercrest, students have unlimited time to complete their Bachelor of Arts Degrees and ten years to complete their master's degree through the seminary. If you have more questions about completing your degree within a certain timeframe, academic services can help you. 
Be patient with yourself and the process.
It takes time to get back into the rhythm of college schedules, especially after being out of school for so long. And it's okay not to know everything—you're here to learn.
If you need assistance organizing your schedules, the Academic Resource Centre (ARC) is an excellent place to get help. The centre is located in the library in the little room to the right of the entrance door (Room L234). You can also email academicresourcecentre@briercrest.ca to schedule an appointment to learn more about their services. There are also multiple student resources on their webpage. 
Ask your professors (also known as faculty) for help when needed. The small, discussion-based class sizes mean that the professors are aware of each one of their students. And because the Briercrest community is small, it is likely that your life will overlap with those of the faculty and staff. You will often run into someone from Briercrest in Moose Jaw, whether for church, groceries, or other activities. This may help you feel less alone in your academic journey.
Embrace being challenged to meet high standards.
It is truly a blessing when a professor challenges you to grow and improve. High standards push you to be better and more successful than ever before.
When we are surrounded by excellence, it helps us strive to reach the same level of success. Don't be afraid to take on difficult tasks and put in extra effort. These experiences can help you grow as a person and give you the confidence needed to succeed. 
If this is your first college experience, introduce yourself to the professor at the beginning of the semester, and let them know the topic is new to you. This will let them know that you may need extra help and grace. 
Nevertheless, even if the subject matter is new to you, you also have lots of life wisdom to add to class discussions. Don't be afraid to step out of your comfort zone and bring a new perspective to the discussion. 
Be respectful to the professors.
This may seem obvious, but I have unfortunately seen students of all ages disrespect faculty.
By showing your professor the same level of respect you would like in return, you can ensure a more positive learning environment for everyone in the classroom. Respect their opinions and expertise, even if you don't agree with them. If you have a valid point to make, be sure to back it up with facts and evidence. Remember that your professor is an expert in their field and should always be treated as such. Respect the time they take out of their day to teach you, and thank them for their help whenever possible. 
Additionally, never be afraid to ask questions or voice your opinion in class. Your professor is there to help you learn, and asking questions is an important part of learning. If you do so respectfully, they will happily answer your questions and provide guidance throughout the course. 
Finally, be kind when you leave the end-of-the-semester reviews—that is not the place to air the grievances you built up all semester. Instead, let your professors know early in the semester if you are struggling with the materials or need accommodations to meet your learning style. Briercrest's faculty are dedicated to serving and equipping their students to be effective in the work and ministry that God is calling them to. 
Carve out time for yourself.
This is especially true if you are returning to school full-time while also juggling work and/or family responsibilities. Ensure you get plenty of rest, exercise regularly, and eat healthy meals. Take time to connect with friends and family in between heavy workloads. Having a good school-life balance is key to success in college. 
If you are new to Caronport, a good place to meet local people and stay healthy is to join a group fitness class at the CanWest. The various Briercrest athletic teams mostly use the centre. However, you can check their schedule for the times when it is open to the public. If you want healthy food and need a break from the responsibility of cooking, the dining hall is a great place to eat.
Getting plugged into a local church is also important to your well-being. The Church in Caronport meets in the Edwards Chapel here at the school every Sunday. There are also numerous churches in Moose Jaw. Although church attendance is expected as part of your Briercrest educational journey, you can choose where you would like to attend regularly. 
Find meaningful connections even if no one is your age.
Find a friendly younger student who will happily be your classroom friend. Introducing yourself to the person sitting next to you is an excellent icebreaker. Ask them questions about what books they read and what kind of movies they like. If you sense they are uncomfortable, don't be offended if they move to a different seat the next day. Just try to make eye contact and smile at everyone until you find someone who will enjoy your presence. 
You may find students less engaging in first and second-year courses. The introduction level classes, or core classes, usually host students who are studying in different disciplines. However, once you start taking third-year courses, this changes because it is in the later years that you will start taking classes specific to your degree.  I graduated with a small group of BA English students. Since we were in the same classes and had the same interests, it was easy to get to know each other and to be comfortable with each other, regardless of age. 
Fit in by getting involved on campus.
Join a Bible study group or volunteer for an event like Youth Quake. Extracurriculars are also a great way to meet people with similar interests. Briercrest offers special events for students living in the community versus dorms. There are movie nights, potluck dinners, games nights, and more. The key is to get involved and engage with others. You can talk to the Community Life Coordinator for more information about connecting with other community students. 
Attending daily Chapels will also help you feel like you belong to the campus body. Chapel is every Monday to Thursday and is typically where announcements are made, which will help you be aware of the activities happening on campus. If you prefer to do homework during that time, I recommend that you at least attend the all-school chapel on Wednesday. It is a beautiful time of corporate worship and connection between the high school, college, seminary, staff, and faculty. Briercrest's president, Michael Pawelke, leads Chapel several times yearly. If you get a chance, introduce yourself to Michael and share your story. He is truly welcoming and loves hearing about the students' lives. 
3. Take advantage of the resources available.
Remember that the staff at the college are there to assist you. Don't hesitate to reach out if you need help with technology, financial aid, or anything else.
At the same time, remember that you are expected to learn how to do things for yourself. Expecting resource staff to do everything for you is not helpful to your future.
You will need to know how to use a computer before coming to Briercrest, as you will need it to write papers, complete assignments, and communicate using email. You will also need to independently use printers, find online resources, use correct formatting and citation, and understand what each professor expects from you as a student. 
It is a good idea to bring an inexpensive laptop with you to college. Please check with each professor regarding electronics in class before taking it with you on the first day. Most professors will allow electronics if they are required for specific reasons.
A limited number of computers are available in the library for student use. However, it makes paper writing less stressful if a portable device is always available. Likewise, if you have room in your living accommodations for a printer, it is much easier to have your own than to have to wait in line to use the printer in the library. 
Two particularly helpful resources are the Archibald Library and the Academic Resource Centre. 
1. The Library
Located on the second level, the library has everything you need to write papers and complete assignments. The extensive collection of books has been selected to support research on the topics covered in the courses. There are also online data banks that students can access. 
There are 16 study carrels reserved specifically for seminary students. However, mature students can also be considered, especially if they live off campus or studying at home is difficult. The carrels include built-in lighting, power outlets, locking cupboards, and a shelf to store books. Carrels are rented on a semester basis for a $30 fee. Demand is usually high, and carrels are awarded on the basis of need. To apply for a carrel, please contact the library staff.
It is recommended that you take one of the Introduction to English Literature courses in your first year. You will learn more about the library and how to do research in the first-year English classes. 
2. The Academic Resource Centre
The Academic Resource Centre (ARC) provides personalized guidance and support to help all students fully participate in the Briercrest learning community. The ARC collaborates with faculty and other departments to equip and empower students to work toward their academic, vocational, ministry, and life goals.
The centre is located in room L225 in the Archibald Library. You are welcome to stop by with questions or to find a quiet place to study. Online resources, such as research paper writing guides, tutor appointment booking, or information on academic accommodations, can also be found on their website.
Bonus Tip: Know Your Syllabi
Each course will come with a syllabus. This is the most important document you will receive as a student. It contains everything you need to know to succeed in any given course. 
The syllabus outlines what is involved with the course. Sometimes the professor will give you a physical copy at the beginning of the first class; others expect you to have a copy in hand when you arrive. The syllabus is where you will find all the important information needed to succeed in the course.
Instructor's name and contact information.
The course description.
The textbook that you will need and where you can purchase them.
The learning objectives (in other words, what you can expect to learn).
The course requirements and weight (specifically the percentage of the final grade that you need to pass and the opportunities you have to achieve the grades, such as assignments, exams, or reading ahead).
The course outline (which lists the assignments with their due dates, plus the mid-term and final exam dates.
Various policies and expectations are also laid out in the academic calendar. (link)
The syllabus is the key to your success as a student. Read each one from front to back. Then read it again, then again. Highlight important dates, assignments, due dates, and expectations. 
Once you have read the syllabus thoroughly, I recommend adding the assignments and exams with the respective due dates into a planner. This way, if you are taking multiple courses, you will always know what is coming due. A good way of ensuring assignments are done on time is to map out when you need to start researching for papers, write your first drafts, and edit the final drafts. 
See Research Papers 101 for more help on writing an essay.
Final Thoughts: 
Personal development knows no age limit.
The time you spend in college is the perfect chance to explore new ideas, challenge your beliefs, and embrace different values. Briercrest College provides an ideal environment for personal growth and development, with classes and programs that provide the tools to help you grow both mentally and spiritually.
Students who attend Briercrest College are encouraged to challenge themselves and explore their passions, which helps them build confidence, increase knowledge, and find joy in their lives. With a strong commitment to community, support for student success, and an environment of exploration and growth, Briercrest College is an excellent choice for those looking to get the most out of their college experience. 
So, embrace this new chapter in your life to reach your goals, broaden your horizons, and cultivate a greater understanding of yourself and the world around you.
We look forward to seeing you on check-in day!