Men spilt weekend with MHC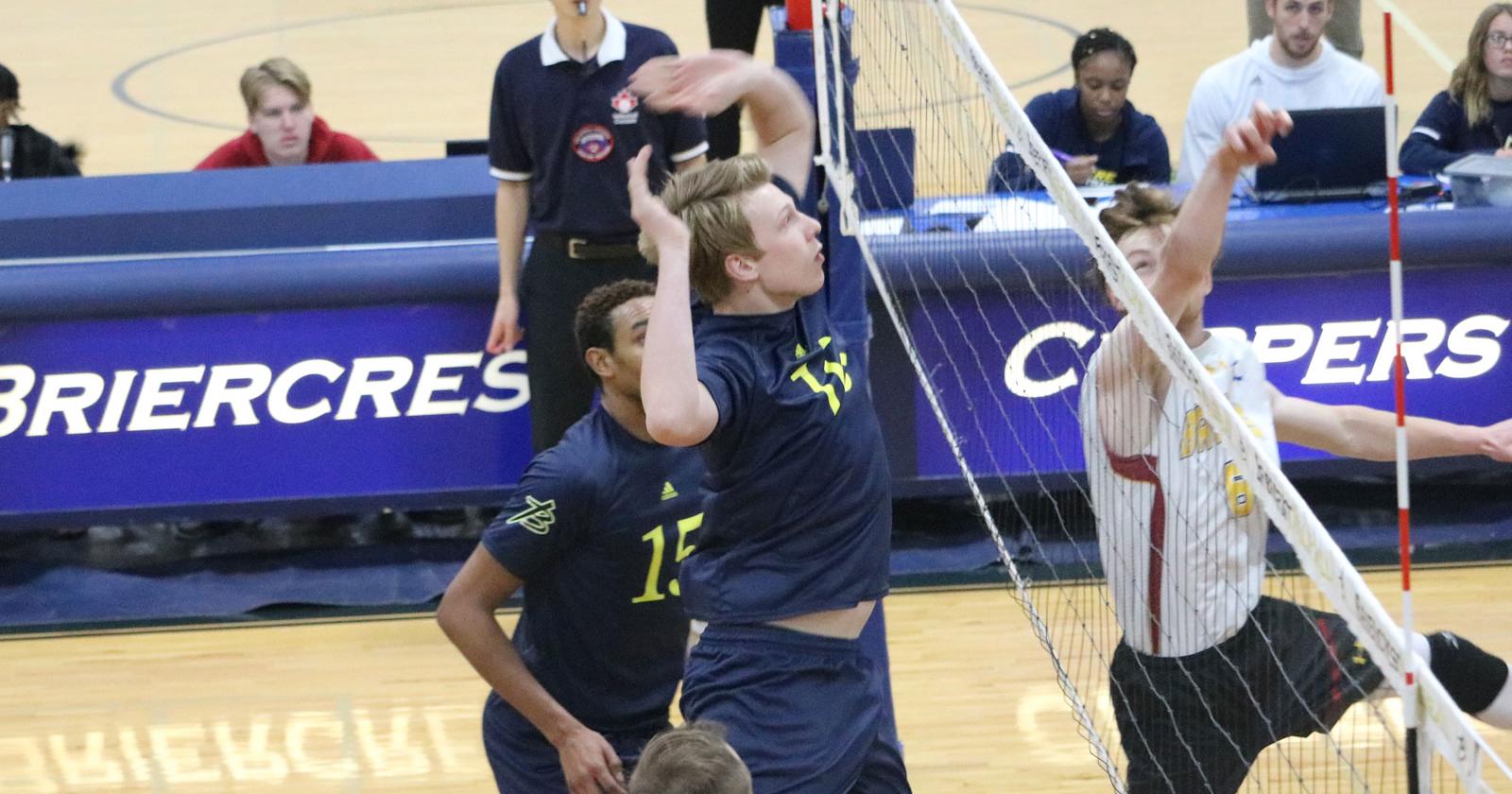 Briercrest was hoping to extend their four game winning streak this afternoon, but lost to Medicine Hat in 4 sets (25-20, 17-25, 25-23, 00-25).
The first set started with Medicine Hat taking a close lead. Briercrest fought hard though and then soon took the lead themselves. With matched momentum, both teams fought point-for-point making for an exciting first set. Briercrest started to slowly pull ahead though, causing Medicine Hat to take two timeouts. Briercrest's rallies couldn't be broken giving them the first and only set win of 25-20.
Medicine Hat responded to Briercrest's set win by taking an early lead. With key offensive and defensive plays, they were able to increase their lead. Briercrest wasn't able to break Medicine Hat's momentum causing them to fall 17-25 for the second set.
The third set was a set to remember. With both teams having a set win under their belt, they both were fighting hard to gain a lead in the game. Both teams fought once again point-for-point making for the intensity rise in the Hangar. Medicine Hat started to take a small lead causing Briercrest to call timeout at 8-11. This gave Briercrest the momentum they needed in order to tie the score. Unfortunately, Briercrest's momentum was broken after a series of errors causing them to fall behind a few points. Medicine Hat claimed the third set with a 25-23 score.
Both teams started off the set by battling for each point making for a close start. Medicine Hat started to pull ahead though, causing Briercrest to call timeout at 13-15. Medicine Hat continued to lengthen their lead giving them their third set win of 25-18.
Mitchell Erickson was awarded Player of the Game by Briercrest Women's Volleyball's assistant coach, Elly Blackaby. He had 11 kills, 2 assists, and 5 digs.
Briercrest's did well in the stats category by having 45-43 kills, 38-37 assists, 4-3 service aces, 29-29 digs and 2-13 blocks.